Custom Solution of braided sleeving
Mingxin is an all-solution provider with a focus on braided sleeving production, assisted by the production of CNC machined fittings. We produce special braided sleevings with an excellent performance for abrasion resistance, high temperature resistance, fire retardant, noise reduction and shielding. We also produce matched connecting pieces with a high precision. Our products are mainly used in automobile, railway, heavy industry equipment, new energy, communications, electricity, consumer electronics and other industries. Our products have been sold to Japan, USA and many other markets.
Range of custom
Filament diameter (mm): 0.20, 0.22, 0.25, and 0.38
Material: PET, PA66, PE, PEEK, NOMEX, Kevlar
Color: white, yellow, black, blue, gray, etc.
Diameter of braided sleeving: 3.0mm-76mm
Strength of custom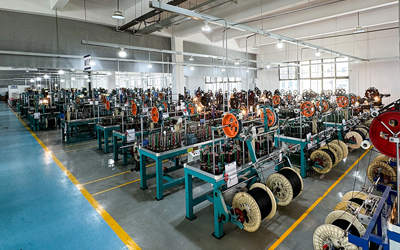 We have accumulated extensive experience of more than 10 years in the production of braided sleeving since our foundation in 2006. Our company has a variety of production equipment and testing equipment, such as drawing machines, braiding machines, cutting equipment, ageing ovens and tensile force testing machines. From drawing to braided sleeving, we carry out all the processes by ourselves to ensure the quality of products and reduce the cost.
Some of our products have passed the authentications of UL, SGS, RoHs, and DIN5510 and so on.
We have provided products for Siemens, Amphenol, Corning, Huawei, CRRC, CEC, and more, and every year, we provide more than 1,000,000m braided sleevings for Amphenol and 200,000m for Corning.
Products display
Customization of machined parts
In order to satisfy the customer requirements, we purchased 6 Citizen CNC precision automatic lathes to process different connecting pieces of high precision for customers.
Range of processing: diameter: 0.5-20mm, length: 1-200mm
Precision of processing: dimensional tolerance: ±0.01mm; coaxiality of one-time processing: 0.005mm; parallelism of one-time processing: 0.01mm; one-sided perpendicularity: 0.01mm
Material:
Brass: H65, H68, H70, H59, H62, 3604
Copper: T2
Stainless steel: 201, 302, 304, 316, 410, 430, 303
We can produce the products according to your incoming samples, supplied materials and drawings.